Today's adhesives & sealants are classified by bonding mechanism, chemistry or application…
Adhesives and sealants have been used for centuries, with the earliest adhesives and sealants being made of natural materials, such as tree sap, beeswax and tar. Later, processed natural products were used such as animal protein, resin, natural latex.
With the emergence of the chemical industry and synthetic polymers, the range of adhesive and sealant formulations exploded. Today's adhesives and sealants may be classified in many different ways, such as by cure (bonding) mechanism, chemistry type, and even application (e.g. structural vs. non-structural).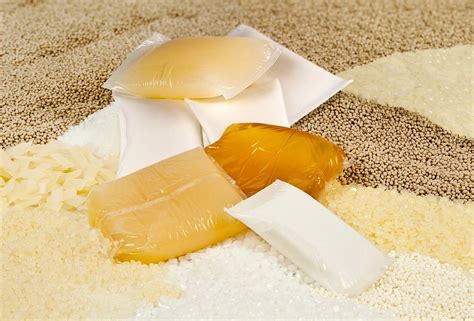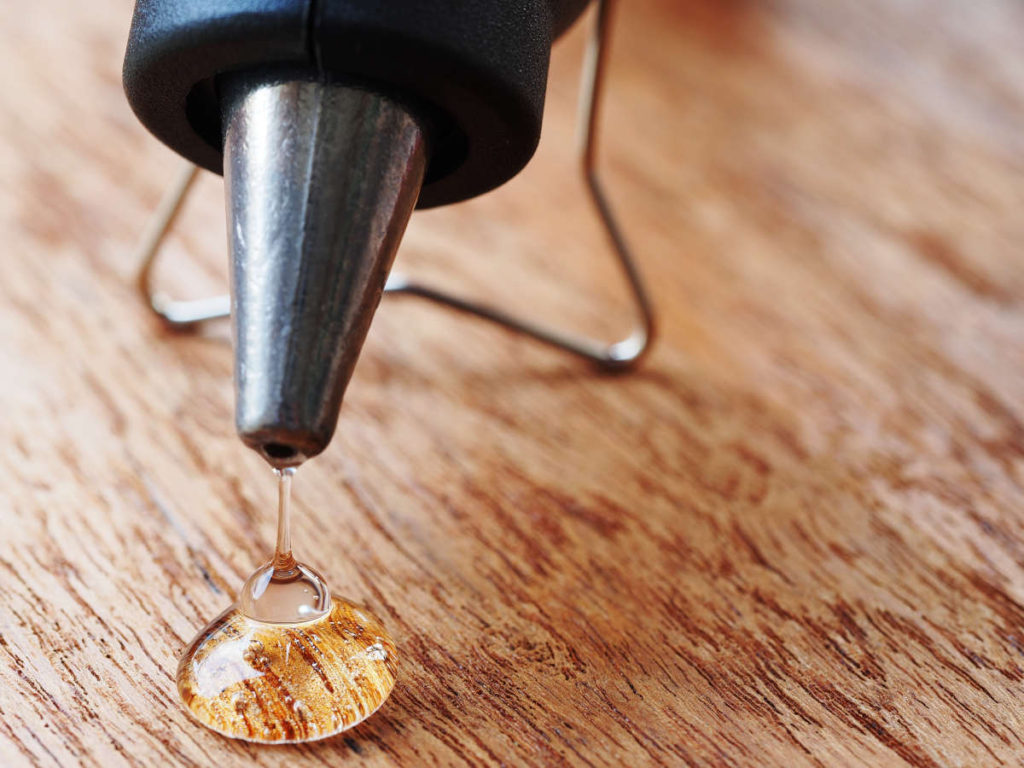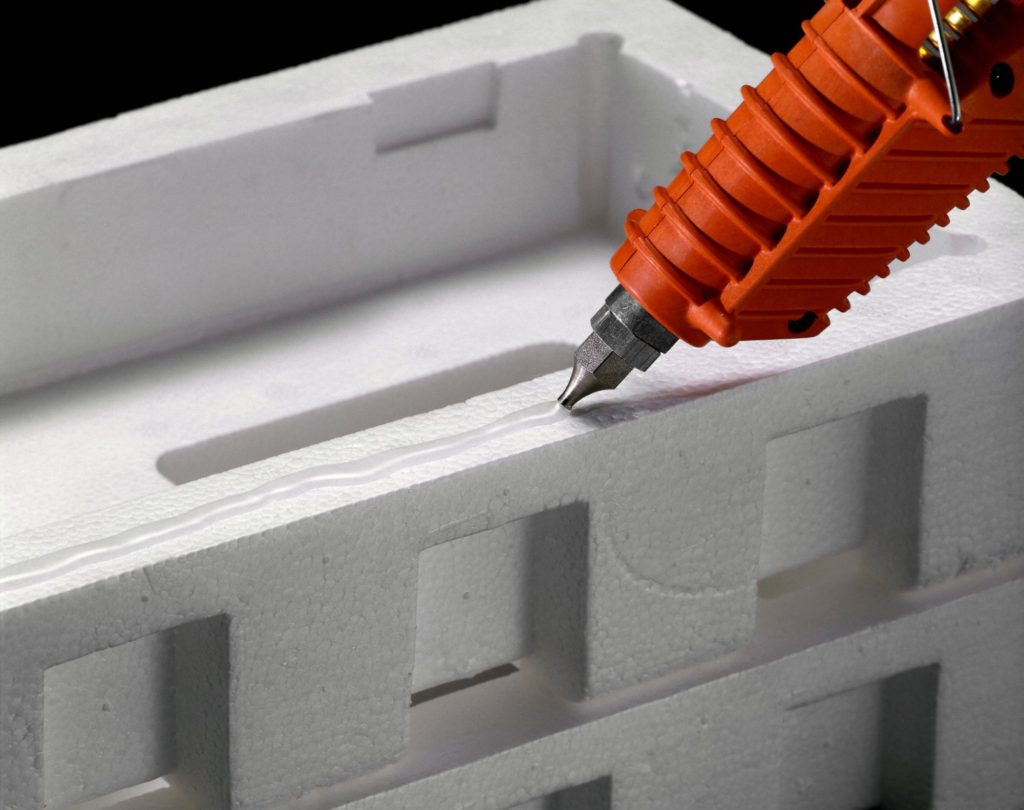 Physically Hardening Adhesives
Physically hardening adhesives are adhesives which, on application, are already present in their final chemical state. Only polymers that can be liquefied can be used for this category of adhesive, namely thermoplastics that can be melted, soluble thermoplastics or elastomers, or polymer dispersions.
Although poorly crosslinked elastomers with good swelling properties are strictly speaking insoluble, they can still be used in certain cases to produce adhesives if they swell enough for the substrates to be wetted.
Physically hardening adhesives provide a wide range of adhesive properties, generally good bond flexibility, and are used in a variety of applications. Four physically hardening adhesives are
Four physically hardening adhesives are:
HOT MELT ADHESIVES:
Hot melt adhesives are generally 100% solids formulations based on thermoplastic polymers. They are solid at room temperature and are activated upon heating above their softening point, at which stage they are liquid, and hence can be processed.
After application, they retain the ability to wet the substrate until they solidify. Upon solidification, they return to a physical state that has structural integrity and can function as an adhesive. The adhesive is applied by extruding, rolling, or spraying and joining is carried out immediately after application or after reheating the solidified layer.
The variety of polymers in this class is very wide and includes both natural and synthetic polymers. The high viscosity of the melt makes them particularly suitable for porous and permeable substrates which otherwise would be more difficul to bond with a solvent system. A feature of hot melts is that on cooling they very rapidly build up their internal strength allowing rapid assembly and further processing.
Because they are based on thermoplastic polymers, hot melts can be repeatedly heated to melt and cooled to solidify. This property limits the temperature resistance of hot melt bonds and they also have a tendency to creep when subjected to continuous stress or elevated temperatures. On the plus side, these adhesives can be used to create bonded joints that are thermally detachable and can also be re-attached.
Hot melts are used in industry for a wide range of applications including:
The packaging industry (manufacturing of packaging from paper, cardboard, and corrugated board) is one of the major users.
Hot melts are also used in the printing industry for bonding the spines of books, in the textile industry for bonding appliqué, and in the shoe-making industry for bonding for example shoe soles.
The wood processing industry uses hot melts for veneer surrounds and edging.
The automotive industry employs hot melts for a host of applications including bonding insulating and cushioning materials, bonding headlight covers into metal frames and for wheel covers.
The electronics industry also uses hot melts, for example for bonding coil windings and coil ends.
Most hot melt adhesives are formulations tailored to meet handling, performance, and application methods required for specific uses.
The form in which these materials are supplied is also varied:
Hot Melt Rod (stick) for handheld hot melt glue guns
Hot Melt Block, granular, power for bulk melt processors.
Hot Melt Film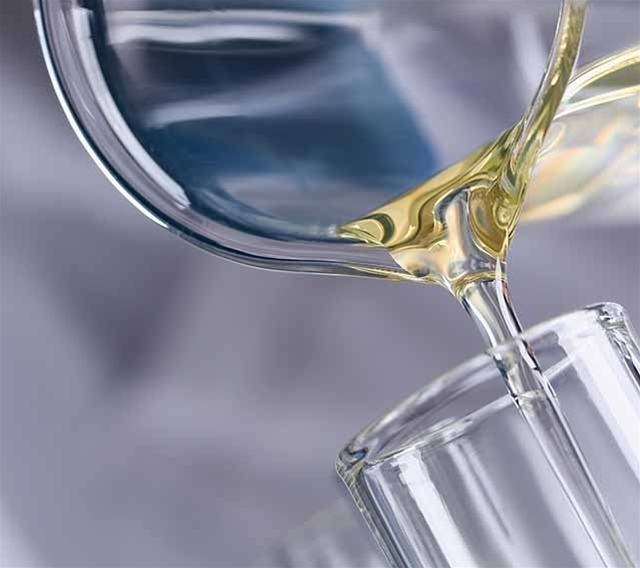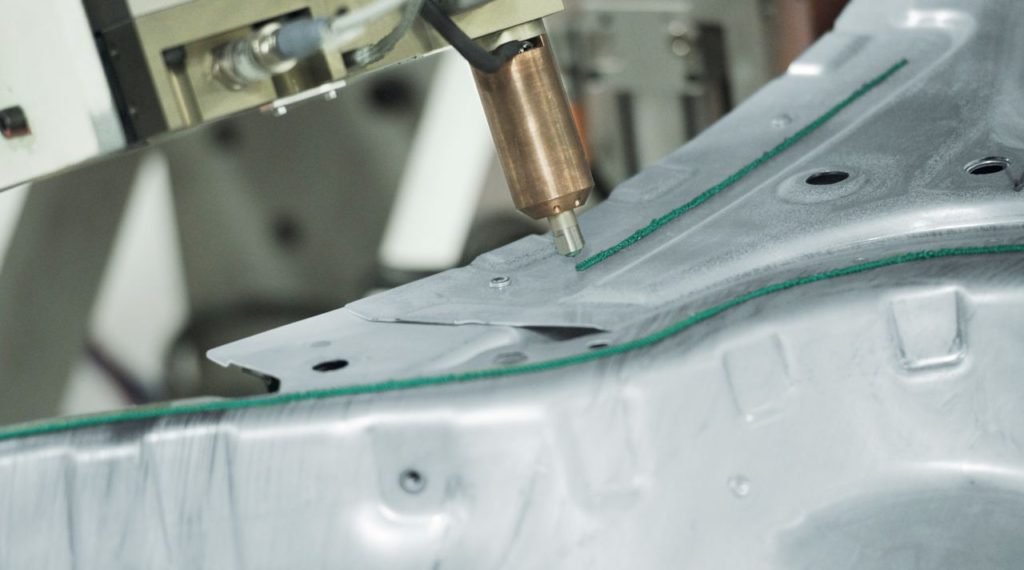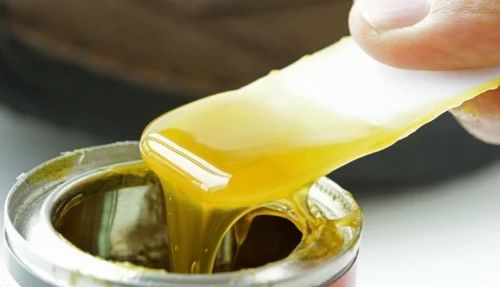 ORGANIC SOLVENT ADHESIVES:
These more traditional adhesives are formulated from solvents containing polychloroprene, polyurethane, acrylic, and natural and synthetic rubbers (elastomers). Solvent based adhesives contain significant levels of volatile organic compounds (VOCs), which are considered to be precursors to smog formation, asthma irritants and are often subject to regulations across the United States and worldwide.
These adhesives are applied by brush, roller, and spray or as beads or ribbons either manually or automatically. Solvent based adhesives are available with a variety of drying and bonding times to match the application method and assembly process. These adhesives are typically intermediate in final bond strength and heat resistance providing good bond line flexibility.
Because they contain organic solvent, they are less sensitive than other types of adhesives to contaminates on the surfaces to be bonded.
Two major classes exist:
Wet Bonding Adhesives
These adhesives build strength through the evaporation of the solvent. After application of the adhesive, the substrates must be bonded while the adhesive is still liquid. Final bond strength is obtained after the remaining solvent evaporates from the bond line.
Contact Adhesives
For this class of adhesive, both substrates are coated with adhesive and any solvent present is allowed to evaporate before the bond is made. The bond is formed by bringing the two coated substrates together using only enough pressure to insure intimate contact of the two adhesive films, the adhesive having sufficient tack or auto-adhesion to provide early bond strength. Bond strength builds over time as the two adhesive surfaces remain in contact and the films co-mingle.
Contact adhesives provide much higher initial strength and generally have higher final strength, heat resistance, and creep resistance than wet bonded solvent based adhesives.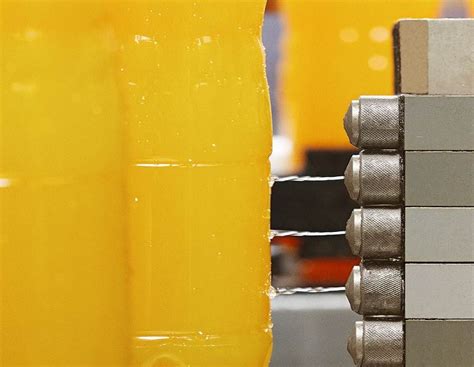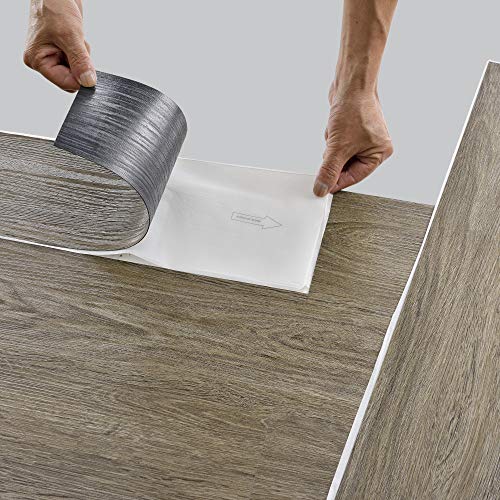 PLASTISOL ADHESIVES:
Plastisols are single-component adhesives that are applied as a paste to the substrate. The paste consists of solid polyvinylchloride (PVC) particles dispersed in plasticizer. In order to form a bond, the applied adhesive is heated so that the thermoplastic PVC swells and can take up the plasticizer. The two-phase system (sol) converts to a single-phase system (gel) by incorporating the plasticizer in the swollen polymer. This process occurs at a temperature between 300 and 360°F (150 and 180°C) and results in an adhesive film consisting of a plasticized polymer.
Plastisols have high flexibility and good peel resistance. They do; however, have the disadvantage that they are sensitive to shear stress and they also tend to undergo creep when subjected to loads. For most applications, as an adhesive sealant this has no adverse effects. Being thermoplastics, they only have limited resistance to heat. If overheated, for example during spot welding, there is also the risk of liberating hydrochloric acid. A typical area of application for plastisols is in vehicle body construction. Besides their bonding function, they also serve to seal joints against moisture, to dampen vibrations and to increase the rigidity of the body. Plastisols can also be used to bond non-pretreated metal sheets as they have the ability to take up oil. On the down side, PVC plastisols give rise to environmental problems (PVC issue) when recycling the bonded components, and consequently have become increasingly replaced by alternative adhesives, such as epoxy resins.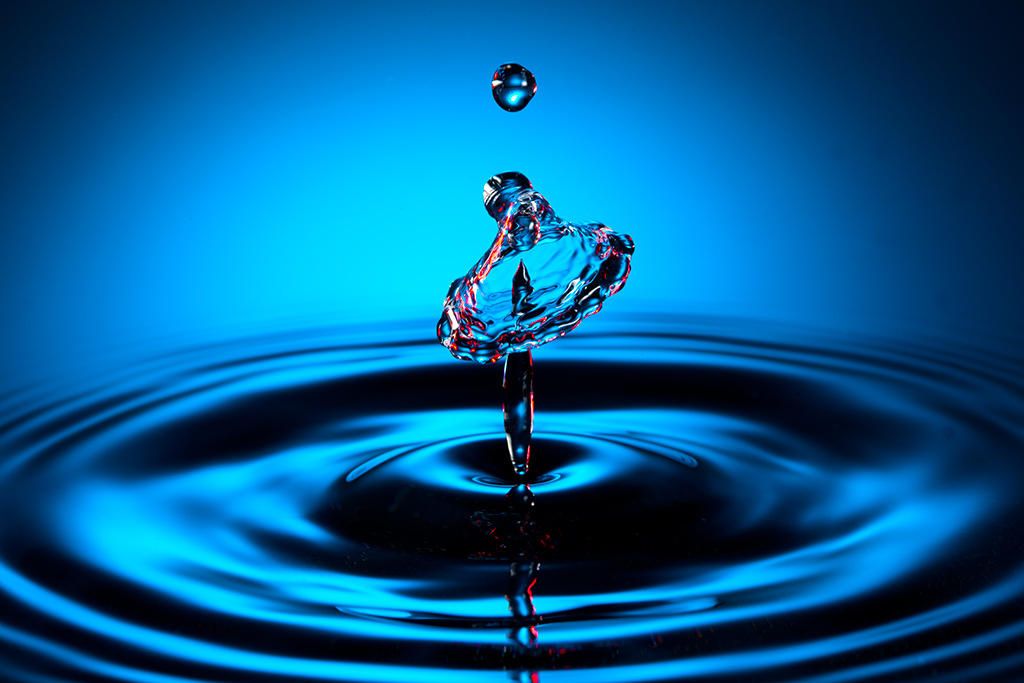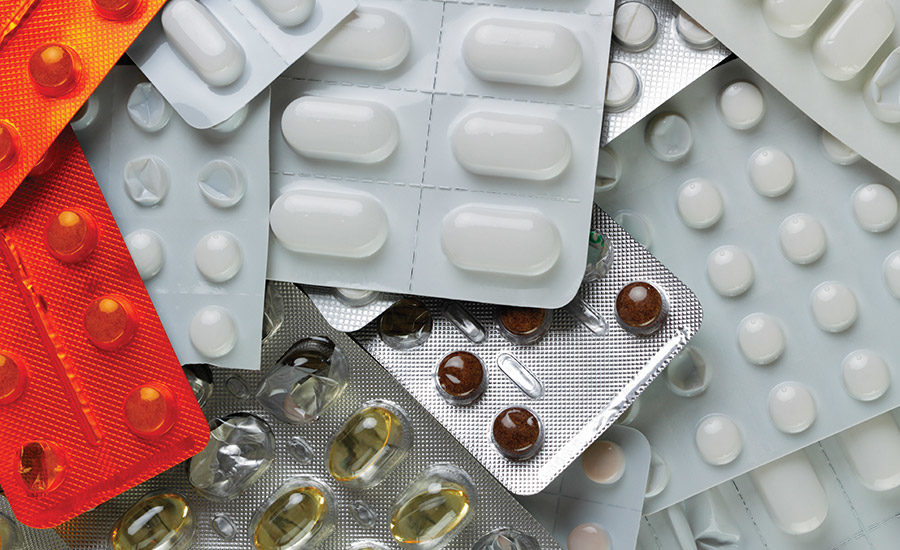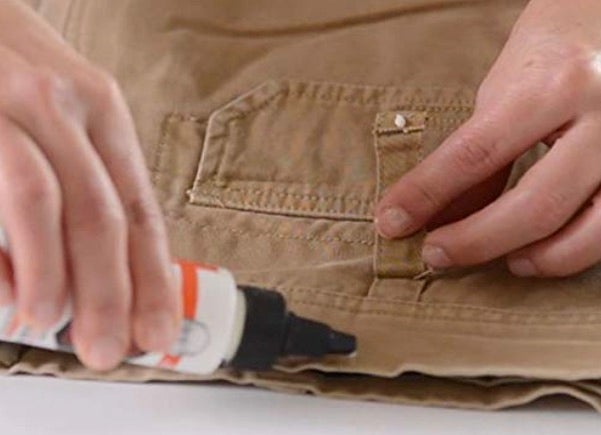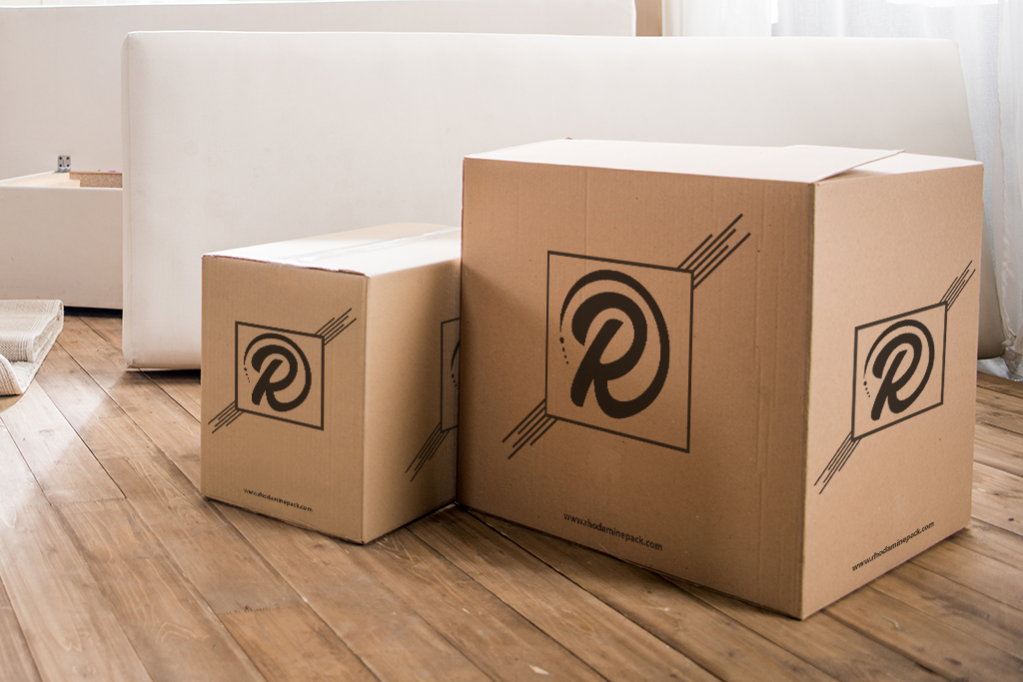 WATER BASED ADHESIVES:
This category of adhesives includes a wide variety of polymeric materials (usually thermoplastics or elastomers) dispersed or dissolved in a continuous aqueous phase. One of the major advantages of water based (or waterborne) adhesives is the absence of volatile organic compounds (VOCs).
A feature of these materials is the ease of cleanup of liquid adhesive. Water can be used to clean application equipment and excess adhesive off substrates. Emulsion systems are readily suited to high-speed production equipment and rapid bonding.
For many water based adhesives, it is a requirement that at least one of the substrates be permeable to allow water to escape from the system. It is not surprising, then, that these materials have found wide use bonding wood, paper, fabrics, leather and other porous substrates. Emulsions can accept solid fillers, and, therefore, pastes are possible. Such material can be used for tile adhesives, wall panel adhesives and sealants.
Water based products can be classified as either Solutions or Dispersions:
Solutions
Water-based solution adhesives are based on natural and synthetic polymers that can be dissolved in water. Bonds are formed by the evaporation of water or by absorption of water into the substrate. These adhesives are used in bonding paper and paper products as well as in moistenable adhesives such as those used on stamps, envelopes, labels, and packing tape.
Polymer Dispersions/Emulsions
Water based dispersion adhesives are typically formulated from compounds including vinyl acetate polymers and copolymers (PVAC), ethylene vinyl acetate (EVA), acrylics, styrene-butadiene rubber (SBR), natural rubber latex and synthetic elastomers, and polyurethane (PUR). Like latex paint, these adhesives are heterogeneous systems comprising a solid polymer phase dispersed in an aqueous phase. They can be applied by brush, roller, spray, or in beads or ribbons. Wet adhesive can be cleaned up using water or soapy water. However, dried adhesive is no longer water dispersible requiring solvent and often mechanical abrading to clean up.
Two major classes exist:
Wet bonding adhesives: After adhesive application, substrates are joined while the adhesive is still wet. The bond forms as a result of water being lost either by evaporation or absorption by the substrate. These adhesives often used in the paper processing industry, in the packaging sector and in furniture-making.
Contact adhesives: As with solvent based contact adhesives, both substrates are coated with adhesive. The water is then allowed to evaporate before the bond is made. The bond is formed by bringing the two coated substrates together using only enough pressure to insure intimate contact of the two adhesive films, the adhesive having sufficient tack or auto-adhesion to provide early bond strength. Bond strength builds over time as the two adhesive surfaces remain in contact and the films co-mingle. Contact adhesives provide much higher initial strength and generally have higher final strength, heat resistance, and creep resistance than wet bonded water-based adhesives